Short stories, blogs, poems, filmscripts, news articles, video journalism, and tramp journalism by Bryan Adrian ... follow this link
... to all the people of Tbilisi, a
"Brit-Yank-Kartvelebi Poetry READ-OUT",
at THE CARAVAN, on Sunday, January 28th, 2007, at !
Lingua House on Abashidze



click here for SAMPLE of one of the writer-performers!


Photos provided by Ross McConnell of the "Tbilisi Tattler"




Nino, aka "Wolfie", with Givi Margvelashvili, one of the presenters....

for future poetry readouts in Tbilisi or Batumi call for arrangements to Bryan at 557 93 58 02

POETS & PERFORMERS who attended: Amiran Svimonishvili [Paco]; Nino Burduli; Medea Zaalishvili; Mary Shengelia; Gia Chkonia [pianist]; Goga Shoshiashvili [guitarist]; George Pkhaladze [guitarist]; Kote Kubaneishvili; Dato Akriani; Gia Kobakhidze; Bryan Adrian; Givi Margvelashvili......



Kote Kubaneishvili, poet



Nino Burduli, actress and intellectual



Medea Zaalishvili, translator



Dato Akriani, poet/translator



Bryan Adrian, writer



THE CARAVAN



Givi Margvelashvili the Master of Ceremony!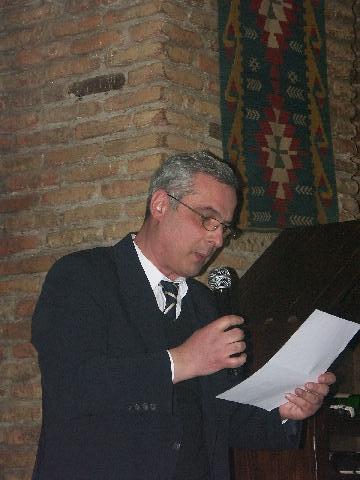 Gia Kobakhidze, former MP


......"Thanks for coming!"

Original flier for the event, below:
Georgian, American, and other poets will read from their own works of poetry, in addition to a large number of poetry and prose experts reading from the works of great famous poets, in the original languages and in translation also. THE CARAVAN is near the Public Library on Purtseladze Street, just behind Rustaveli Cinema.
Every second or third poet after their performance will be followed by a musician. Average time for each poet and musician is about five to fifteen minutes.
This nearly two hour event will be crowded with entertaining performances and a delicious array of talents [and in hindsight, it was!!].
For those who are hungry or thirsty, The Caravan has an attractive menu of drinks and food from which to order, covering the entire price range from 3 GEL cognacs/soft drinks, to very fine food and whiskeys.
PLEASE CONTACT, IF INTERESTED, ASAP !